Let's Talk Invitations
How would you rate your understanding of invitations on a scale from master to newbie? Maybe a "I kind of know what I'm doing, but still unsure if some of these are invitations."
Or maybe you're just flat-out confused and struggling to understand invitations, so you feel stuck, not knowing if you can move forward because you're still wondering if you've received an invitation.
Or perhaps you're doing all the right Projector things to attract invitations…but you still haven't seen any come in, and that's got you frustrated, disappointed, and second-guessing yourself.
Maybe you're the person who's accepted aligned invitations…but you overstepped the boundaries (that you didn't know about) and that cost you the invitation.
Changing the way you approach invitations can change all that.
Know what to look for
With Attract Epicv Invitations, you won't be floundering in the dark, trying to find out if you've just received an invitation or not.
Know how to accept an invitation
Yes, invitations come with boundaries! This course will help you learn how to find them and not overstep them.
Energetically connect with inivtations
This ensures they're aligned with you and gives your magnetic powers an extra boost while you're at it. 
Feel confident in your understanding
No more second-guessing yourself or your authority. No more wondering if an invitation is aligned with you. You've got this invitation thing down.
What Is Attract Epic Invitations?
It's a mini-course for Projectors that will deepen your understanding of invitations and walk you through how to attract epic invitations as a Projector.
Essentially, we're plugging the gaps in your invitation knowledge so you can confidently approach invitations. (No more feeling stuck, frustrated, or disappointed.)
This self-study, go-at-your-own pace course is available immediately after you enroll! (No waiting on new lessons to drop. How you go through it is completely up to you.)
You can go through it as many times as you like! In fact, the course itself is set up so that it walks you through a Projector's manifestation process, so you can use it as you begin (and continue) attracting in invitations.
What's Included in the Course?
Attract Epic Invitations is full of goodies for you to go through and explore over and over again. It includes pre-recorded lessons, meditations, and homework for each lesson. 
While there is no limit on how quickly or slowly you go through the course, I have included a suggested course timeline to help you pace yourself.
(I totally understand the desire to go through the course in one sitting, but I also want to make sure that you integrate and implement everything so you have lasting results and are able to really shift your approach to invitaitons.)
5 Pre-recorded Lessons
These lessons cover each of the big pillars of invitations and walk you through the Projector manifestation process in a more detailed way than ever before.
A Workbook for Each Lesson
Each lesson comes with its own downloadable workbook to help you integrate and implement what you're learning.
Guided Meditations for Deeper Integration
This course includes 2 guided meditations created specifically for Projectors. These meditations will help you connect with invitations energetically so you can guage their alignment.
Let's Break Down Those Lessons
Wondering specifically what the lessons cover? Let's dive in!
Each lesson covers one of the pillars of the Projector process for attracting epic invitations.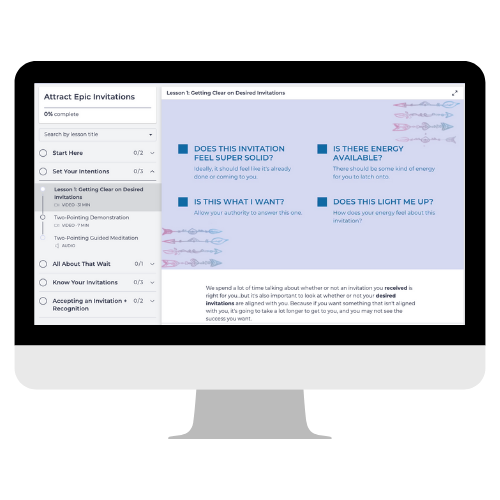 Lesson 1 – Getting Clear on Desired Invitations
We spend a lot of time talking about whether or not an invitation you received is aligned for you. But what about the invitations you want to receive? Are those invitations aligned with you? You would think they are…but if you're still in the process of deconditioning, you may be trying to call in unaligned invitations, which slows the whole manifestation process down.
So before we get bogged down in whether or not you're "doing" the right things…let's start at the beginning and ensure that the invitation you want is right for you. How? With the steps in this lesson.
Lesson 2 – How to Wait Like a Pro
Think your waiting game is the best it could be? I challenge you to think again. Because I'm introducing a new type of waiting in this lesson, and it's a game-changer for Projectors who want to do something without initiating. We'll also talk about how to balance the 3 different types of waiting so that you're doing what's aligned for you and your energy.
We're gonna answer all your questions around invitations so you can go out into the world confidently and attract those suckers to you like kids to a mud puddle.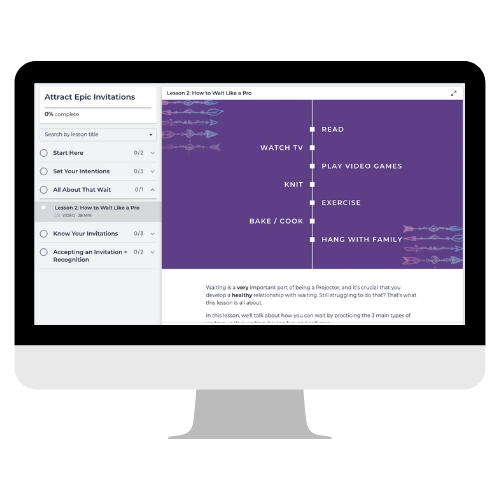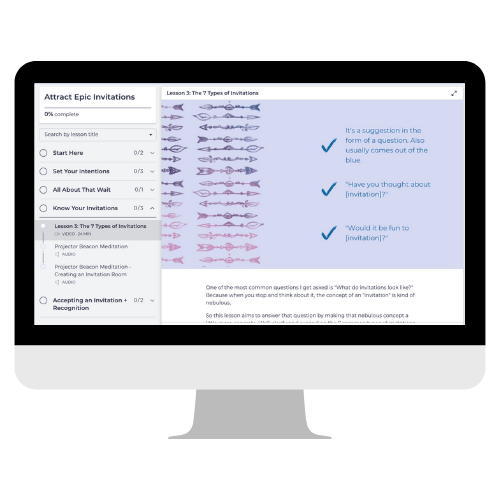 Lesson 3 – The 7 Types of Invitations
This lesson answers some of the most common questions I get about invitations, including
"Is [insert invitation here] an invitation?"
"What does an invitation look like?"
"How can I tell if this is an invitation?"
With this lesson, I'm giving you 7 broad categories that invitations generally fall into, so you'll have a better understanding what constitutes an invitation and what to be on the lookout for. Because it's so much easier to see what's already around you when you know what you're looking for.
Lesson 4 – How to Accept an Invitation
A lot of us think that once we've received an accepted an aligned invitation, the rest of it is riding off into the sunset to a happy ending. Well…it's actually a little more nuanced than that, and understanding the energetics of an invitation can help you ensure that you do get that successful ending you want.
In this lesson, we'll talk about what happens after you receive an invitation and the big thing you need to be aware of. We'll also touch on what to do if an invitation you received has been taken back.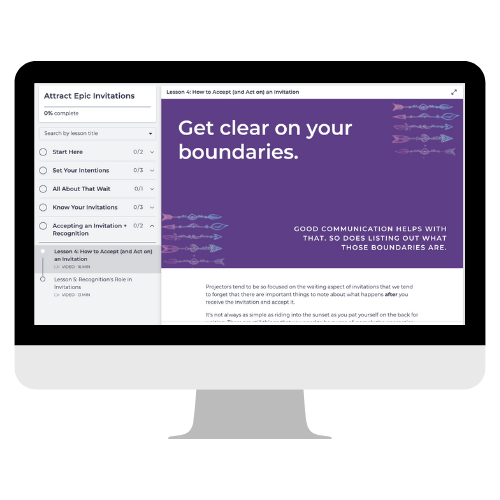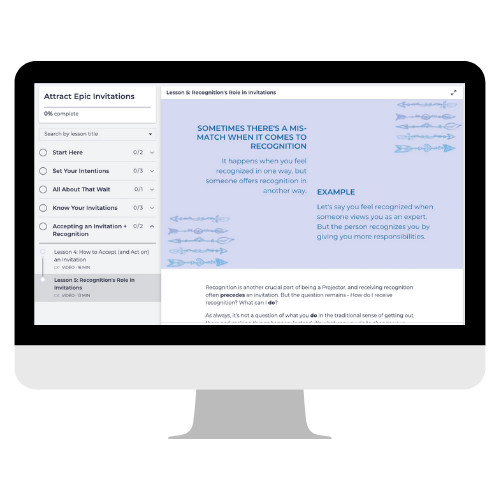 Lesson 5 – Recognition's Role in Invitations
We'll continue on the theme of energetics in our last lesson and look at the role that recognition plays in your receiving an invitation. And we'll start with the most important thing when it comes to recognition – recognizing yourself.
After This Course, You'll
Know the 7 broad types of invitations and how to spot them.
No more wondering if something is an invitation or not.
Become a powerful force in attracting your own invitations
Use the energetic strategies + the manifestation process that the course walks you through to become a magnet.
Know how to accept an invitation and how to identify the boundaries that come with it
You'll be able to retain more invitations because you'll know to watch for the boundaries.
Know how to determine whether or not an invitation you want is aligned with you
No more wasting time and energy trying to connect + attract unaligned things.