Discover Your Projector Magic
And find your own path in this self-study version.
I'm willing to bet that the "conventional" way of doing things rarely worked for you. But, despite that resistance, I bet you probably followed some of those "conventional" ways as best you could. You know what I'm talking about – the old "Hard Work = Success" mantra that many of us were raised to believe in. (Don't feel bad! I did it, too.)
And here's why we did: Many of us tend to only see ONE way to success – the work hard, go-getter attitude perfectly personified in Nike's "Just Do It" slogan. So when that ONE road to success doesn't work for us, we think there's something wrong with US instead of the method we're using to reach success.
Here's the thing: There isn't one path to success. In fact, you create your own.
And that's what Discover Your Projector Magic is here to help you do.
What Is Discover Your Projector Magic?
It's an 8-week course for Human Design Projectors that will help you discover your unique energy and how to best work with it. We'll cover big topics like invitations + waiting, conditioning and how to decondition, clearing + protecting your energy, and how to master systems. 
The freedom to finally discover + be who you really are.
Finally understanding what's your energy and what isn't - and knowing how to release it.
Simplifying invitations and creating a framework that works for you.
Discovering what works best for you in a safe space where experimenting is encouraged
These things are at the core of Discover Your Projector Magic.
What's Included in the Course?
Lots of awesome things to support you as you discover what it means for you to be a Projector. Want to know the specifics? Take a look!
6 pre-recorded video lessons
This is the foundation of the course. Each lesson is packed with info for you to integrate + implement so you can begin learning how your energy works and what's aligned with you.
Integration activities for each lesson
Each lesson has its own homework (available in a printable workbook, a fillable workbook, or Google Docs) to help you process, integrate, and reflect on what you're learning. 
You'll receive bonus lessons and resources that expand on what you're learning so you can go even deeper. (And yes, each bonus lesson has its own homework). 
Freedom to learn when you want
This self-study version of Discover Your Projector Magic is open year-round and is completely free from a time-table. That means you get access to all of the lessons immediately. The course is your playground!
Enroll in Discover Your Projector Magic Self Study
Let's Break Down Those Lessons
Lesson One: What Is a Projector?
We start off by answering the basic question – What is a Projector? To do that, we dive into how Projector energy works, how you work as a Projector, and the three types of Projectors. We'll talk about what Projectors are here to do and your energy uniquely interacts with others.
This lesson lays the foundation for the rest of the course.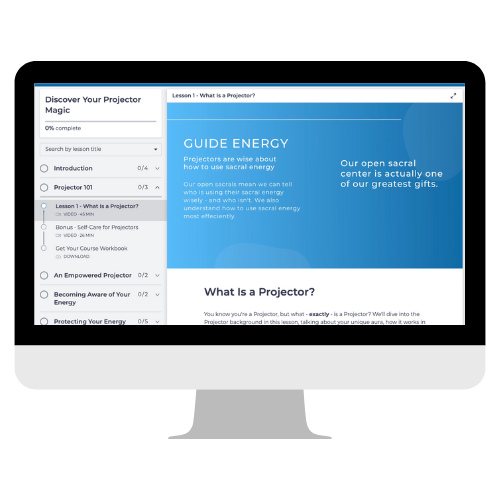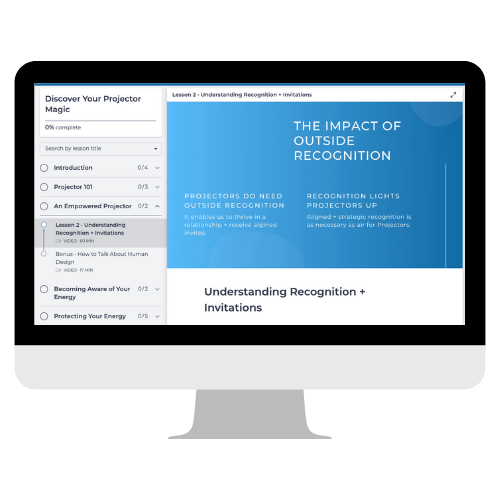 Lesson Two: Understanding Recognition + Invitations
This lesson is all about recognition and invitations. We'll cover the energetics of invitations (a.k.a. how the energy exchange works), whether or not invitations expire, and what invitations can look like.
We'll also walk through how you can wait for an invitation and recognition. When it comes to recognition, we'll touch on what recognition is and how to go about receiving it (hint: You have to start with you).
We're gonna answer all your questions around invitations so you can go out into the world confidently and attract those suckers to you like kids to a mud puddle.
Lesson Three: Finding Your Conditioning
Honestly, this lesson may be my favorite! It's all about conditioning and looking at how your undefined centers impact your life and your energy. We'll talk about what conditioning is, how to spot it, and how to start deconditioning your energy. This lesson is extremely powerful, which is why it comes right before our rest and integration week.
It's time to identify and release the energy that isn't yours and begin observing it instead of identifying with it. That's where the true wisdom potential of our undefined centers comes in. And you're about to discover it.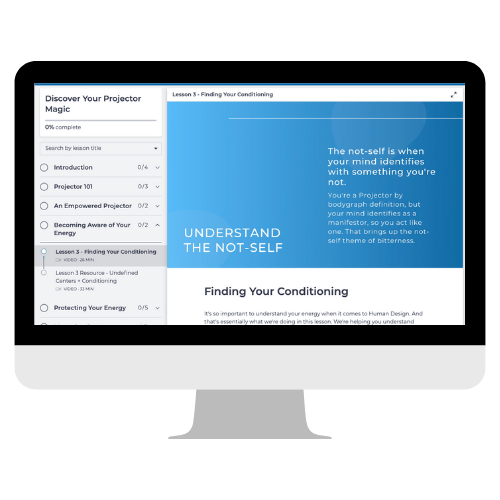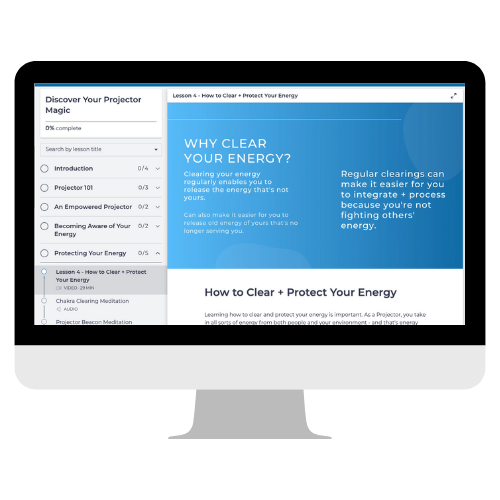 Lesson Four: Clearing + Protecting Your Energy
Because the Projector aura is so focused and absorbing, it's important to clear your energy regularly so you can live in alignment with your natural energy. Besides, you don't need to hold onto other people's energy.
This lesson will walk you through the basic clearing and protecting process and provide you with several guided clearing meditations so you can find the one that works best for you.
Lesson Five: How Projectors Master Systems
In this lesson, we're talking about how Projectors can master a system, what a system even is, and how you "find" your system. (Hint: Ideally, you're invited to it.) Get ready to dive into a topic that doesn't get as much air time as it should in the Projector world.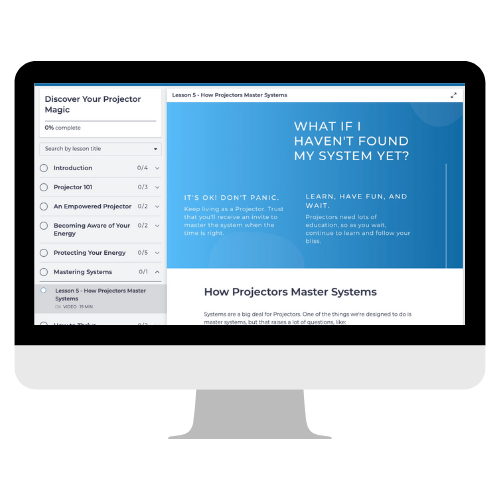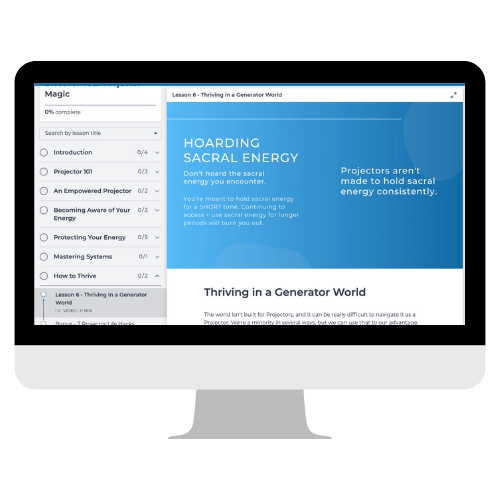 Lesson Six: Thriving in a Generator World
Knowing all about your Projector energy doesn't do you much good if you don't know how to thrive in a Generator world. That's what this final lesson is all about – strategies and tips for living as a Projector out in the real world. It's time to take your Projector energy out into the world, because you were intentionally designed to be a Projector, and it's only as a Projector that you can see success.
Course Workbook
Discover Your Projector Magic has a PDF companion workbook that will walk you through each lesson and provide a space for you to reflect, learn, and shift your energy. You have three options for your workbook.
First, there's the printable version (pictured here). You can print this workbook out and then write in it to your heart's content. If you prefer to keep your workbook digital, then you can download the fillable PDF version of the workbook. And if you want to keep things extra simple, each lesson also has its homework questions in a Google Doc you can copy or download.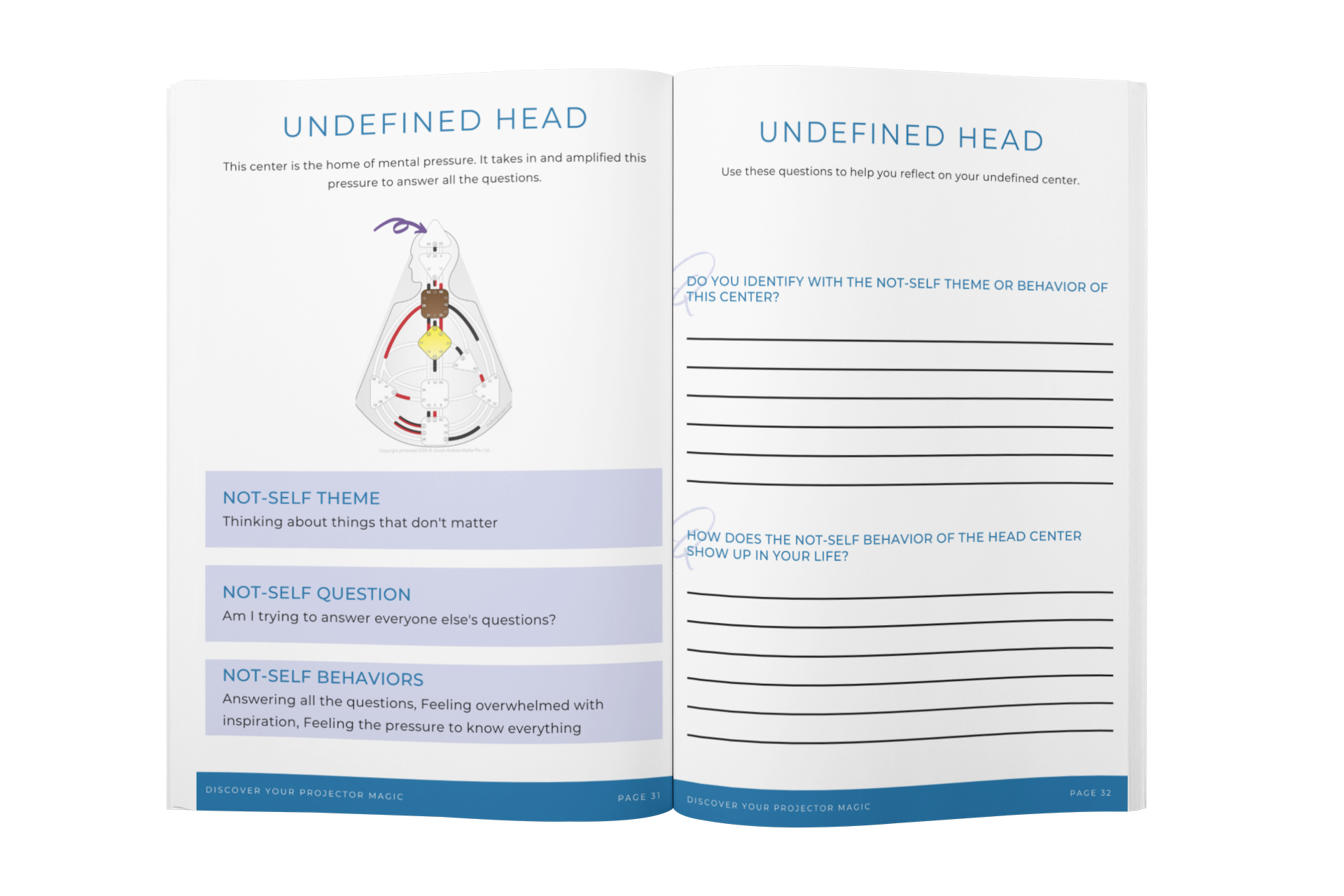 Step 1
Choose your payment plan and enroll in the course. As soon as you enroll, you have access to all of the lessons!
step 2
Decide on your course timeline – and do your best to stick to it. I've included a suggested timeline in the course itself (hint: It's 6 weeks long).
step 3
Give yourself as much time and space as you need to reflect and implement what you're learning. Don't forget to use your workbook!
step 4
After you complete the course, make sure you go through it again whenever you need to. That's what it's here for!
The self-study Discover Your Projector Magic course has no time limits on it. You receive access to all of the lessons as soon as you enroll, and you can go through them in whatever order you want. However, I do recommend going through the lessons in numerical order. They build on each other. 
Curious as to what's included? Take a peek at the lessons + bonus resources in the course.
Section 1 - Projector 101
Lesson 1 – What Is a Projector?
Bonus Lesson – Self-Care for Projectors
Section 2 - An Empowered Projector
Lesson 2 – Understanding Recognition + Invitations
Bonus Lesson – How to Talk about Human Design
Section 3 - Becoming Aware of Your Energy
Lesson 3 – Finding Your Conditioning
Lesson 3 Resource – Undefined Centers + Conditioning
Section 4 - Protecting Your Energy
Lesson 4 – How to Clear + Protect Your Energy
Clearing resources + meditations
Section 5 - Mastering Systems
Lesson 5 – How Projectors Master Systems
Section 6 - How to Thrive
Lesson 6 – Thriving in a Generator World
Bonus Lesson – 7 Projector Life Hacks
Enroll in the self-study version of Discover Your Projector Magic
Is This Course Right for Me?
Well, let's see. Check out who this course is a good fit for below and then listen to your authority for the final word.
Discover Your Projector Magic is right for you if you…
Are a Human Design Projector
Are realtively new to Human Design
Are just starting out on your Projector Journey
Have lots of questions about being a Projector
Are ready to do some deep internal work to shift your life and energy
Are willing to do the deconditioning work over and over and over again
Understand that being a Projector takes time and won't be an overnight change
Are familiar with me and the work I do
Discover Your Projector Magic ISN'T right for you if you…
Aren't a Human Design Projector
Are unwilling to wait for the invitation
Feel like you have a solid grasp on the basics of being a Projector
Are unwilling to actually make changes in your life
Have been learning, researching, and working with your design for over a year
Frequently Asked Questions
Got questions? I've got answers! If you don't see your question here, you can always send me an email at [email protected].
How long will I have access to the course?
You'll receive lifetime access to the self-study version of Discover Your Projector Magic, including any changes or updates I make to the course.
What's the difference between this version and the group version of DYPM?
The group version of DYPM is much more structured. The lessons release on a schedule – roughly one a week. And we have a Facebook group where we'll talk about each of the lessons. I'll share reflection and discussion prompts in the group as well. 
The group version is about creating a community and giving you that extra bit of support so you have a place to answer your questions and to process what you're learning.
Are there any live elements in this course?
Not for the self-study version of DYPM. Everything is pre-recorded, meaning that you can watch it whenever you want.
When can I access each lesson? Can I see them all immediately?
Yep! The self-study version of DYPM doesn't have time restraints on lessons. You can watch the lessons whenever you want. You can even watch them out of order (though I wouldn't recommend it). 
Meet Ardelia
I'm Ardelia Lee, Human Design guide, pathfinder, and energetic compass, and I'll be sending these emails to you and guiding you through this challenge.
I'm here to support and guide you, fellow projector, as you familiarize yourself with your design and then learn how to be a projector. It's time to live out your design and stop trying to be the manifestor you aren't.
I'll help you release your conditioning (a.k.a. the external expectations that have been placed on you, especially regarding your work ethic and what success looks like). And I'll guide you as you begin to rediscover yourself and your energy so you can finally create and live the life you were designed for.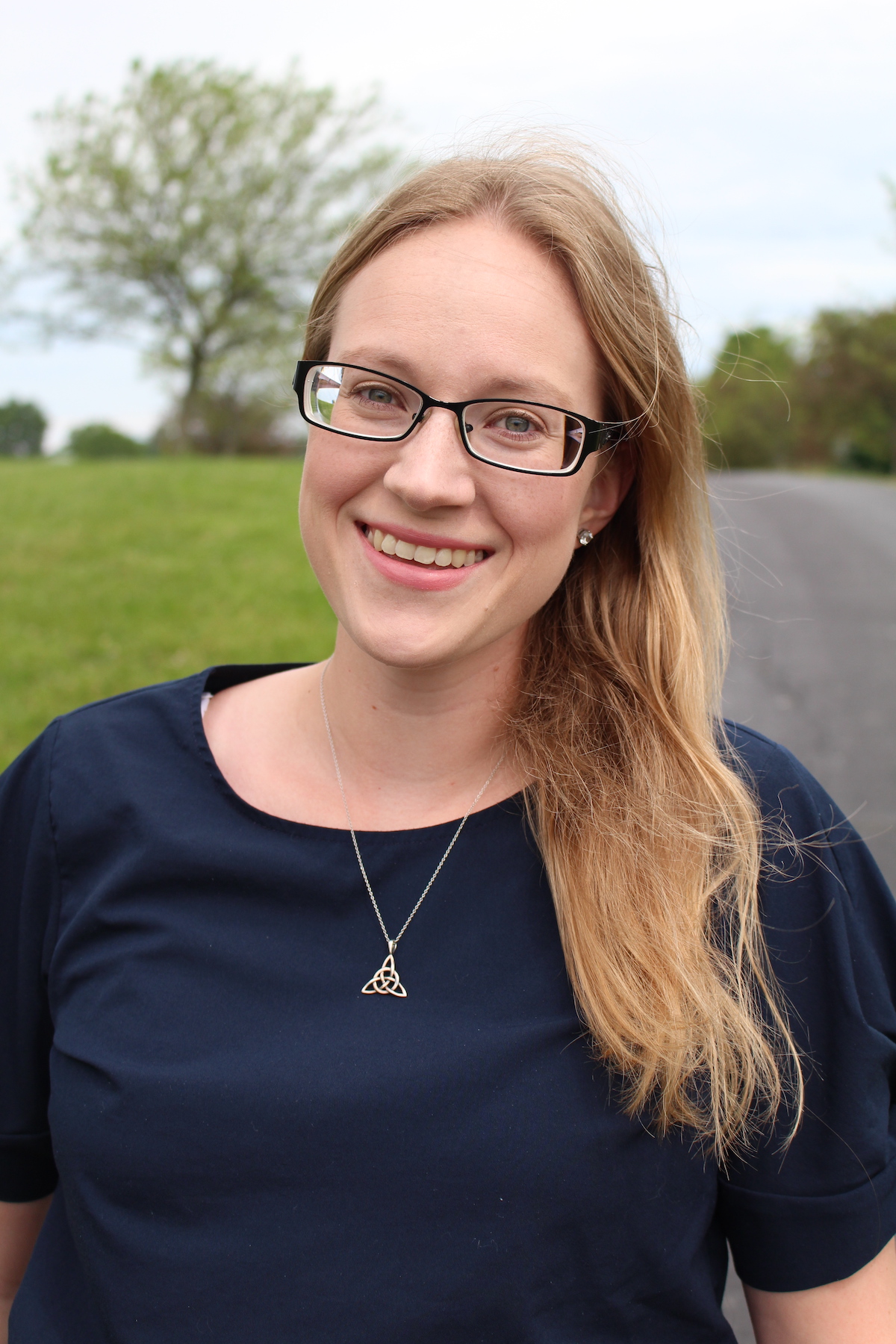 Enroll in Discover Your Projector Magic self-study