Discover your design.
Unlock your magic.
There are a few questions that humans have been asking for thousands of years. Questions that define the human existence, like
What am I meant to do here on Earth?
How can I fulfill that purpose?
What makes me different from all the other people here?
Where the heck did I leave my car keys?
Ok…maybe not that last one. But you get the idea.
We have profound questions that we'd love the answers to, because oh man would that make life easier or what? (Spoiler alert! It would).
Struggling to answer those questions?
You're looking in the wrong places.
We look to society. We look to our families. We listen to what they have to say, and then most of the time we take that to heart.
But we rarely look to ourselves. And when we do, we don't know how to truly connect with who we are because we've been so deeply conditioned, so let's take some time to help you peel back the layers and find the real you. 
It's time to rediscover your true self and find the answers you seek.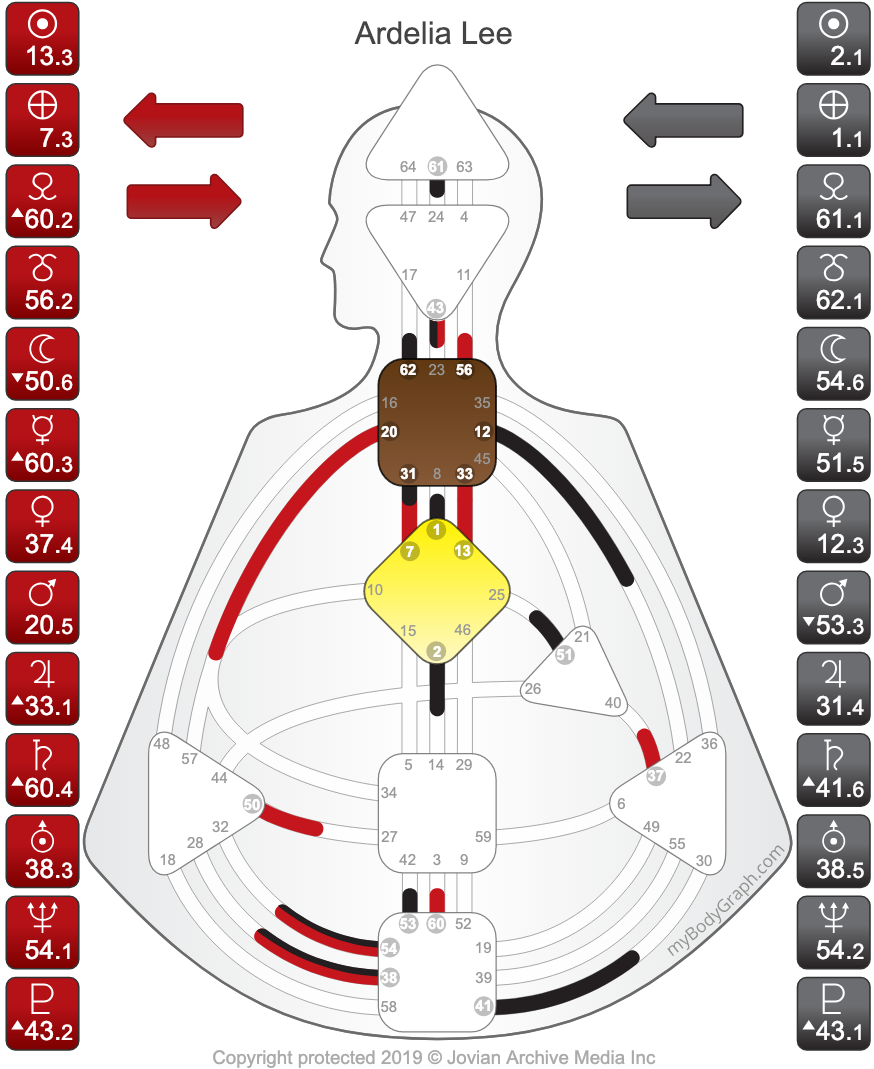 What's Human Design?
Your Human Design  (a.k.a. your energetic blueprint) tells us how your energy works best in the world. It tells us what you need to be successful, and it tells us what your inherent strengths and talents are.
It's basically a treasure trove of information on how you can live a happy, aligned, and fulfilled life. And yes, it can even tell you what you're meant to do here.
Developing a better understanding of your Human Design and how you can work with it is life-changing. (And I'm speaking from personal experience here.)
What happens during the session?
During our 60-minute Human Design reading, I'll walk you through your chart. We'll cover your type, strategy and authority, profile, incarnation cross, and your centers (both the open and defined ones). I'll share my screen with you and record our call so that you can easily reference our discussion and your chart again.
Who is this for?
If you're relatively new to Human Design and don't know much about your chart, a Human Design Reading is a great place to start. It'll help you understand the basics of your chart and give you the information you need to begin working with your energy. It's also a great time to get some answers to the questions you have.
It's just $111!
Why book a Human Design Reading?
The beauty of a Human Design Reading, as opposed to simply researching your chart by yourself, is the conversation and discoveries that happen.
All too often, I see people stop learning about Human Design because they don't feel adequately supported by the answers they find in their research. This is especially obvious for projectors.
With a Human Design Reading, you don't have to simply sit there and wonder how to apply your design to your life. You can ask questions and receive instant answers and feedback. You can talk things out as you process. And that's not all.
Translate what you're learning into actionable steps
Understand how your design impacts your everyday life.
Learn more about your soul purpose and how you're meant to live it out.
Become more familiar with your chart as a whole.
Step 1
Book your call. You'll be taken to my calendar to purchase + schedule.
step 2
Answer all of the pre-call questions when you book. Please include your birth time AND your birth location.
step 3
Join me in your private Zoom meeting room at the time of your call. We'll go through your chart and hit the foundational info that you need to know.
step 4
Watch the replay as many times as you need to. And if you have questions, feel free to send them to me! 
I loved my reading with Ardelia because she made me feel so seen and affirmed.
Kelli Tompkins, Human Design Projector
You'll think she's known you her whole life!
I had a Human Design Reading with Ardelia and it was so amazing! Everything she said resonated with me and it made so much sense! I understand now why I am the way I am and she offered some really powerful tips on how to be more in flow with my type and my specific energy, how to engage my personal momentum and to flow with that to move forward! I would highly recommend Ardelia – she has such a wonderful understanding on everything to do with Human Design and she really helped me to understand as well – you'll think she's known you her whole life!
I'm trusting my projector pings more often.
I have been following Ardelia's podcast and got very curious about how I was operating as a projector. My human design reading with Ardelia was just fantastic. Her calm presence and ability to help me decipher some of the ways I could put my human design to use in my life and business was very valuable. Since my reading, I am trusting my projector pings more often, have a strategy to use my gifts, have more clarity about why I operate the way I do. It's been amazing. I would highly recommend getting a reading from her.
Will I get a recording of the call?
Yes! I'll upload it to YouTube (it'll be unlisted, which means only people with the link – a.k.a. you + me – will be able to see it). Either that same day or the next day, I'll send you an email with the link to your recording. Watch it as often as you want!
What if I already know my Human Design and I want to focus on one specific area?
If you're already pretty familiar with your general Human Design and want to focus on something more specific (like your channels and gates or the placement of the planets in your chart), be sure to check out my more in-depth Human Design sessions. I offer a variety of reads to help you connect with + understand your energy. 
What if I run into problems during the booking process?
Oh darn! Technology is great…until it isn't. If you run into tech glitches during the booking process, follow the first rule of the Hitchhiker's Guide to the Galaxy and DON'T PANIC.
Next, send me an email at [email protected] and let me know. I'll respond within 48 hours, and we'll get it sorted out.
Do you offer Human Design Readings for non-projector types?
Yes! I love working with all Human Design types, and I'm more than happy to sit down with all types – manifestor, manifesting generator, generator, and reflector. 
What if I can't find a time that works for me?
You must be in (nor near) Australian time, then. 😉  If you can't find a time that works because of time zone conversions, send me a message and let me know. I would prefer that no one have to be up at midnight to have a reading. 
Frequently Asked Questions
Have a question about scheduling a Foundational Human Design Reading? Check here first! If your question isn't answered here, feel free to send me a message and ask.